Kolåsen, STF Mountain station
Welcome to our hotel in western Jämtland, with two lakes and the Skäckerfjällen Nature Reserve as our nearest neighbours. Here you can fish, hike and enjoy fell walking to the peaks, old-growth forest, and our hot tub with a view across the mountain.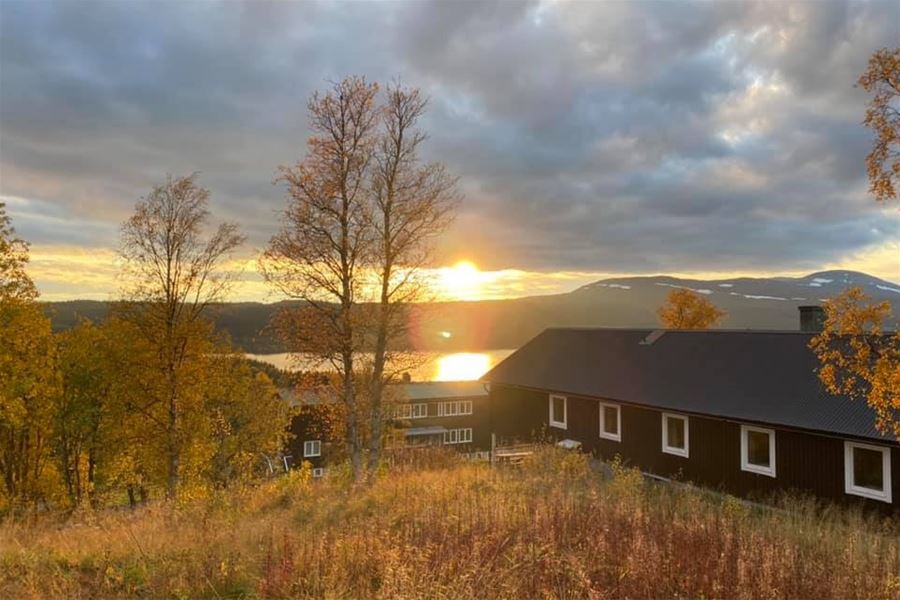 Information
The hotel is a classical tourist attraction, but the current building dates from 1934. The furnishings have been partly preserved and restored as they were the 1930s, and in the 1960s-1070s when the hotel was refurbished. Much of the classical furniture and fittings here are once again modern. Ten cottages are from the early 1960s and these have appropriate furnishings, and some contain items with personality, such as crockery from the 1950s and 1960s.

There is much to see and do at Kolåsen. We arrange art courses, canoe paddling, skiing trips, and guided tours to the tops of some of the fells in the region. Fishing for salmon, char and grayling are popular in both summer and winter. A countryside triathlon will be held here in 2012 for those who seek an extra challenge in untamed nature. After an adventure-filled day, it's wonderful to relax in our hot tub, with a view of the lake and the fell peaks.

Gråsjön, which lies 12 km from Kolåsen, has old ruins from a slate barn. Kolåsen arranges activities during the next-to-last weekend in July every year.

The village has a Saami chapel from 1847, while horses, cows, sheep and pigs ensure that the village land does not fall into disuse. Two short rambling paths are close by, and a longer trail takes you from Kolåsen over the Skäckerfjällen to Anjan. Here there is much old-growth forest, and rich pickings of mushrooms. Storvallån has a waterfall, while Rutsälven meanders its stately way into Rutsdalen.

Each room in the hotel has a unique theme, such as the Flower Room, the Hunting Room and the Churchill Room. The latter is in honour of Winston Churchill himself, who visited here in his youth for the hunting and fishing. Interviews from his visits here tell of a man with a healthy sense of humour who was involved with several pranks, and a man who shared his hunting bag with the local people.