Blåhammaren, STF Fjällstation
Blåhammaren is the highest of STF's mountain lodges, lying above the tree line on a mountain side in west Jämtland, at 1 086 metres above sea level. The views are fantastic.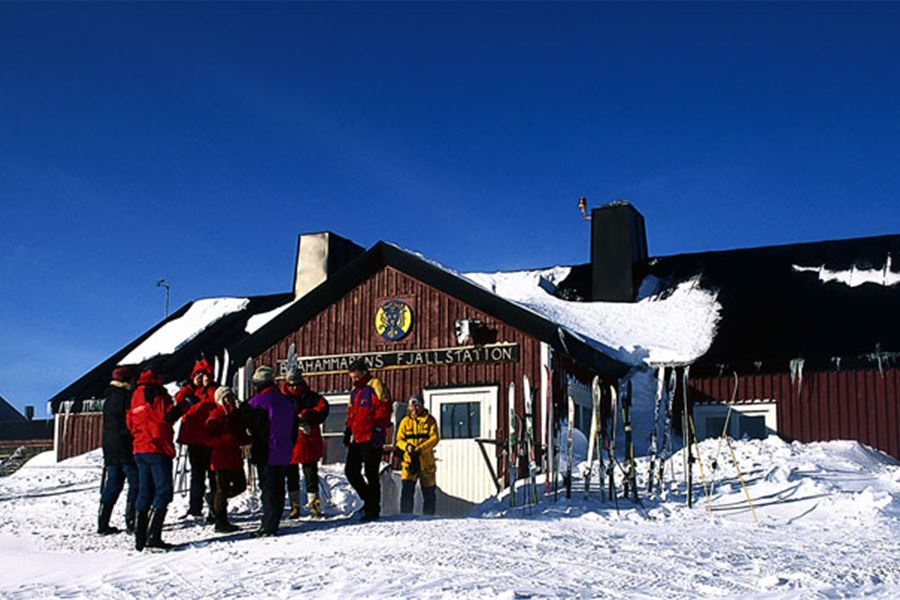 Information
Blåhammaren Mountain Lodge has a history dating back to 1913. The lodge is situated off the beaten track, in roadless countryside, accessible only on foot or on skis from Storulvån, Rundhögen or Storvallen.

The mountain lodge has around 50 beds in the main building and an annex. The main building offers twin rooms, 4-bed rooms and 6-bed rooms as well as toilets, showers, a sauna and drying room. The annex contains a 14-bed room and a room with mattresses on the floor, as well as self-catering facilities and a drying room.

We serve a breakfast buffet, a lunch of fruit soup (which also has a history dating back to the 1920s). Dinner is served at 6pm – a three-course buffet with common seating and table plan. The lodge is fully licensed.
Blåhammaren is a small lodge with a high level of occupancy, which means that dinner should be booked when booking accommodation. Special food requirements should be mentioned when booking.

We have a small shop with a limited selection of food items, sweets, clothing and souvenirs.

Blåhammaren is situated in an area of historical interest, with monuments from the retreat of Karolinerna (King Charles' men), from Norway in 1719.
As the lodge already lies high up in the mountains, it is not far to the nearest peak, Blåhammarkläppen.
There are many suggestions for daytrips from the lodge. The staff can gladly help with tips and ideas.

Directions
To get to Blåhammaren, you have to hike or ski. The nearest roads lie in Storulvån (12 km), Storvallen (14 km) or Rundhögen (10 km). All three places offer car parking.
• By train to Duved or Storlien. Connect with taxi/bus. For reservation, call 00 46 647-704 77. Travelling time to Duved and Storlien from Östersund is 2 hours, from Stockholm 10, from Gothenburg 13 and Malmö 14 hours.
• By air to Östersund. Rental car from airport and around 2 hours drive.
• By car. Take motorway E14 past Åre. After around 40 km, turn left and follow signs to the mountain lodge. The road to Storulvån follows the edge of the mountain range and is vulnerable for snowdrifts. When it is windy, contact Storulvån before beginning your journey.